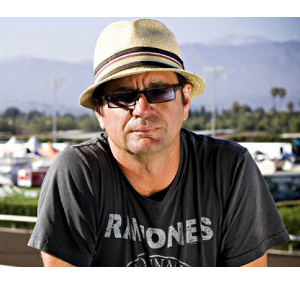 We are excited to announce that Kevin Lyman joins LAMN Jam's talent judge line-up.  Lyman is creator of touring music and extreme sports festivals the Warped Tour, Taste of Chaos and Mayhem tours. He owns 4FINI which annually produces these tours as well as past tours such as the Down From the Mountain Tour, The Watcha Tour and Sprite Liquid Mix Tour.
Submit here NOW to perform at a 2014 LAMN Jam Music Contest.
About Kevin Lyman:
Kevin Lyman began his career booking bands for his university and as a roadie for then unknown acts such as the Untouchables, The Bangles, and Bad Religion. After college, Lyman began working with up-and-coming independent promoter Goldenvoice, serving as production manager for seminal punk rock and metal bands such as The Germs, Metallica, Circle Jerks, Anthrax, and Jane's Addiction.
Kevin is best known as the producer and creator of the hugely successful Vans Warped Tour, the longest running traveling music and extreme sports festival in the world today. Now in its 14th year, the tour reaches more than 600,000 kids each summer, and has spawned a host of imitators. The "punk rock summer camp" has introduced audiences to artists such as No Doubt, Sublime, Blink-182, My Chemical Romance, Eminem, and Fall Out Boy among hundreds of others.  With the Vans Warped Tour, Lyman pioneered the successful integration of corporate sponsors with the extreme lifestyle, creating a blueprint for sponsorship integration widely duplicated in the marketplace today.
In 2005 Kevin teamed up with John Reese to form Taste of Chaos, LLC and produce the Rockstar Taste of Chaos tour.  Known to many as "Winter Warped" this tour has featured bands such as My Chemical Romance, The Used, Deftones, 30 Seconds to Mars and Avenged Sevenfold.  A separate Rockstar Taste of Chaos International tour runs from Australia to Japan to Europe and everywhere in between.  This year, the TOC LLC will present the very first Rockstar Mayhem Festival, a summer metal festival that kicks off this July and features 15 metal bands including headliners Slipknot and Disturbed.
Kevin and 4 Fini, Inc. has also produced numerous other successful tour productions including The Watcha Tour, Down From the Mountain Tour, Sprite Liquid Mix Tour and Great High Mountain Tour, as well as custom events for SEGA Dreamcast, Vans, USSA, Jose Cuervo and New York's Z-100 radio station. In addition to production, Kevin is part owner of Side One Dummy Record Company, which has an impressive yet diverse roster including Flogging Molly, punk icons Suicidal Tendencies, Bedouin Soundclash, Gogol Bordello and swing favorites Royal Crown Review.  He recently entered the film world with his first motion picture as writer and executive producer of Endless Bummer (2008).  Kevin acts as a music industry authority on multiple corporate branding projects, helping companies maintain the valuable street level credibility that endears their products to the youth market.
In addition to all of his business ventures, Lyman also takes advantage of his position to implement a variety of philanthropic and eco initiatives.  Kevin founded the Unite The United Foundation, a 501 (3) (c) that has raised over $600,000 to date for a variety of efforts for everything from hurricane Katrina and the 2007 California Wildfires to grass roots organizations such as Skate For Cancer and Keep-A-Breast.
His commitment extends to encouraging activism in the kids that attend his shows, whether it's designating an area for non-profit organizations at all of his shows so they can educate themselves or organizing volunteer days for the bands and crew on days off. In 2008 he teamed up with Declare Yourself, a youth voter initiative, to have them present on all tours registering young voters and educating them on the local and presidential elections.  He has also co-created promotions such as the Red Cross Blood drive that rewards all Warped ticket holders that donate a pint of blood with a backstage pass.  In 2007 The Red Cross awarded The Vans Warped Tour with "Blood Drive Promotion Of The Year" for raising over 25,000 pints of blood.  Kevin teams up with Phillipe Costeau's Earth Eco Foundation to staff individuals that oversee recycling programs on his tours and organizes bio-diesel drops for all production busses.  He creates incentives for bands, crew and audience members to reduce their "eco footprint" by rewarding 25 individuals with an Earth Eco trip at the end of each Vans Warped Tour.
Of course his biggest accomplishment of all is his wife and two daughters, who still make him take out the trash and put his Blackberry away during meals.
RSVP NOW  for Tuesday, April 29 at LAMN Jam Rock / Pop Music Contest (21+). FREE with RSVP
Want to perform at our next LAMN Jam Music Contest? Click HERE to get more info and submit NOW.
---