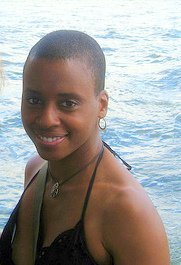 We are delighted to bring avid blogger, taste-maker and author Trina N. Green into the LAMN Jam Talent Judge fold. She joins our growing and distinguished list of industry executives, music supervisors, managers and producers who will judge LAMN Jam Music Contest talent.
About Trina N. Green
All you need to know about Trina can be discerned by watching "The Golden Girls," "I Love Lucy" and listening to Black Rebel Motorcycle Club. She's a native New Yorker, veteran (US Army), cat lover and an olive fiend who landed in Los Angeles with the sole intention of death by music immersion. Via old-fashioned platforms such as MySpace (is that still a thing?), forum boards and personal blogs Trina began writing about music to share discoveries: what good is a great band if barely anyone knows they exist? As a contributor to the Owl Mag, Antiquiet, mxdwn, Buzzbands LA and a staff writer at High Voltage Magazine (an actual print magazine, folks), Trina has been able to indulge in her passion: supporting artists by not just being a music fan, but by treating music like the friend that it's been all her life. She wants to help you find your new favorite band and have them play her birthday shows (see Imagine Dragons for further info), fool you into believing she's absolutely brilliant when she's co-hosting High Voltage's weekly radio show on The Independent FM, become sponsored by Pepsi, wants for musicians she loves NOT to have a day job (unless that day job is music, of course) and is currently wishing that she was still at South By Southwest. If you're in Los Angeles and are looking for her, check the Satellite. Or the Viper Room. Or the Roxy. Or the Palladium. Or the Echo. Maybe the Wiltern.
Sources For More Info 
High Voltage Magazine
Diary of a Concert Whore
RSVP: RSVP HERE NOW for Tuesday, April 29 at LAMN Jam Rock / Pop Music Contest (21+). FREE with RSVP
SUBMIT: Want to perform at our next LAMN Jam Music Contest? Click HERE to get more info and submit NOW.
---