Almost $50K in Prizes Plus Priceless Exposure Opportunities
2014 Prize Package of almost $40,000 in value to be awarded to the winner of the POP / ROCK and URBAN / HIP HOP Music Contests, respectively (except where noted):
Exposure Opportunities
POP-ROCK CONTEST ONLY: First-look consideration for inclusion on Epic Proportions Tour on a 30-day Spring 2015 tour to include a minimum of 12 live shows, gas/lodging included, and an audience of 20,000+ fans waiting to hear and fall in love with YOU. Will also include evaluation of your live stage performance and audience interaction. Touring made easy (a $5,000 value)
First-look publishing deal from North Star Media. "First look" means that *if* North Star Media feels it can succeed with songs of the winning artists (Pop / Rock, and Urban / Hip Hop winners), and the music genres are within North Star's areas of expertise, it will offer a publishing deal.
URBAN / HIP HOP WINNER ONLY: First-look distribution deal by RBC Records
Services
POP-ROCK CONTEST ONLY: Video shoot by award-winning video production company, Dream Team Directors, who have produced video projects for Coldplay, Tricky, Sum 41, Isaac Hayes, P. Diddy and others. Directors Daniel Lir and Bayou Bennett will produce a one-day (up to 6 hours), one main outside location video shoot of one song. Editing included. They will also bring in a hair and make-up artist to make you and your band-mates look like rock stars (a $3,500 value).
Mastering of 4-song EP (each song under 5 minutes), unattended session, by Universal Mastering Studios (a $500 value)
500 CDs in 4-Panel Digipaks, Megabundle Digital Distribution, 100 Download Cards, and 100 Posters from Discmakers (a $2,028 value)
Targeted Press Release Service for one (1) press campaign from Send2Press Newswire (Send2Press.com), a service of Neotrope, Winning artists will each receive a Premium National plan valued at $495 including a high-res print ready band image or artist head shot sent with text, multimedia embed (YouTube, Vimeo, SoundCloud), reach 4,000+ national editors and 5,000+ websites. Also includes targeted social media campaign with click-through tracking. Writing optional (not included). Neotrope/Send2Press is a member of the BBB with A+ rating, and an Inc. 5000 listed company in 2009. Founded 1983 (a $495 value)
Marketing Plan created by NARIP's Tess Taylor (a $2,000 value)
A&R services from Mark Mazzetti, former Vice President of A&R at A&M Records, of Record Company In A Box to include two-hour session which entails song evaluation to determine most commercially viable material as well as production and marketing consultation ($1,000 value)
EPK and 1 week PR services by Vincent Loris (a $500 value)
Selection of one of the following registries courtesy of Music Business Registry: Music Attorney, Film & TV Guide, A&R or Music Publisher (a $100 value)
Dinah Perez Legal Services. Music and entertainment attorney Dinah Perez, Esq. will provide two (2) hours of legal services and contract review to the winning artists, an $800 value. She will also generously provide a complimentary 30-minute consultation to ALL artists selected to perform. Thank you Dinah!
Admission to one (1) NARIP Music Supervisor Session or NARIP A&R Pitch Session (a $329 value). Since 2011, NARIP sessions have resulted in almost 100 placements in major motion pictures, trailers, hit television shows and ad campaigns.
LaFamos PR & Branding will provide a one-month Social Media Management Takeover for each winning band (of the Pop / Rock, and Urban / Hip Hop contest, respectively), to include analysis, revamp, and management of social media assets (Facebook, Twitter, artist's mailing list). This will include daily updates and content creation to increase brand awareness and maximize fan engagement for one (1) month. For that period of time, each winner will be assigned his own personal social media manager to consult and guide through every step of the way. Each package is valued at $1,200.
Executive NARIP Membership for artist manager or artist representative. Attend NARIP events for FREE (does not include NARIP Music Supervisor Session and NARIP A&R Pitch Sessions), please get $395 worth of FREE products from the NARIP Store, and be part of the biggest music business network in the world to advance your career (a $395 value)
Thirty (30) minute one-on-one pitch session with top music supervisor (a $1,000 value).
Two 12-hour day recording sessions (one for Pop/Rock winner, one for Urban winner) at Clear Lake Recording Studios, including engineer (a $3,000 value)
Jan Linder-Koda of Angel Diva Music offers a 2-hour consultation to each winner, a $240 value. Her consultation will include pin-pointing what may be missing and what can be added to deliver riveting performances. Will also include how to tap into the truth of the storyteller, create characters from a deeper understanding and use this knowledge in artist's writing process.
Thank you to the Harry Fox Agency and to Songfile for their generous support of 2014 LAMN Jam Music Contests! Releasing a cover song? You need a license! Songfile is the fast and easy online licensing tool that simplifies mechanical licensing for physical, digital, ringtones and on-demand streaming distribution. Not sure what song you want to record? Songfile's free online search capability lets you look up millions of songs. Keep it simple with Songfile!
Professional Photo Shoot courtesy of Justin Winokur Photography. 8-hour photo shoot at multiple locations if desired and / or studio (portraits, head shots, band shots) from Justin Winokur Photography, a $1.500 value. (NOTE: photo shoot to take place in the San Francisco / San Jose area, winning artists to arrange their own transportation). Does not include hair, makeup or wardrobe.
The Underground Hip Hop Blog will provide the winner of the URBAN LAMN Jam Music Contest a feature interview on this taste-maker, high traffic blog as well as camera time and an album review.
Veteran radio programmer, music director, DJ, taste-maker, podcaster, and blogger Darren Rose (who returns for his second stint as a LAMN Jam Music Contest Talent Judge this year) will interview and feature the winning LAMN Jam artists on his popular weekly radio and music biz podcast "Inside Radio & Records." Rose's podcast reaches the most influential players in the radio and record industries, and he is responsible for discovering and helping to launch talent including Grouplove, Foster the People, The Airborne Toxic Event, Mumford & Sons, Imagine Dragons, and Lorde (to name a few) whom he fast-forwarded to mass media recognition.
Gear
Sonnox Toollbox Plug-Ins – batch and conversion tool for Mac and PC. Preparing audio for online distribution can be tedious and frustrating. Sonnox's affordable utility takes the pain away! (a $360 value)
Playground Sessions is a new software application developed with Quincy Jones that teaches piano and music theory using popular songs, gaming elements and social connectivity. Grand prize winners receive a lifetime subscription to Playground Sessions , including access to over 30 interactive music theory lessons, five free song lessons, all new practice materials and software updates ($500 value per winner)
TC Group will provide a Harmony Singer Pedal (a $200 value).
Fuchs Audio will provide two effect pedals (Pure Gain Pedal and Plush Creme Pedal) to LAMN Jam winners (a $279 value)
An ECM-84 Stereo Mic Kit courtesy of Gauge Precision Instruments (valued at $368).
Wow!
More prizes added constantly, watch this space for updates.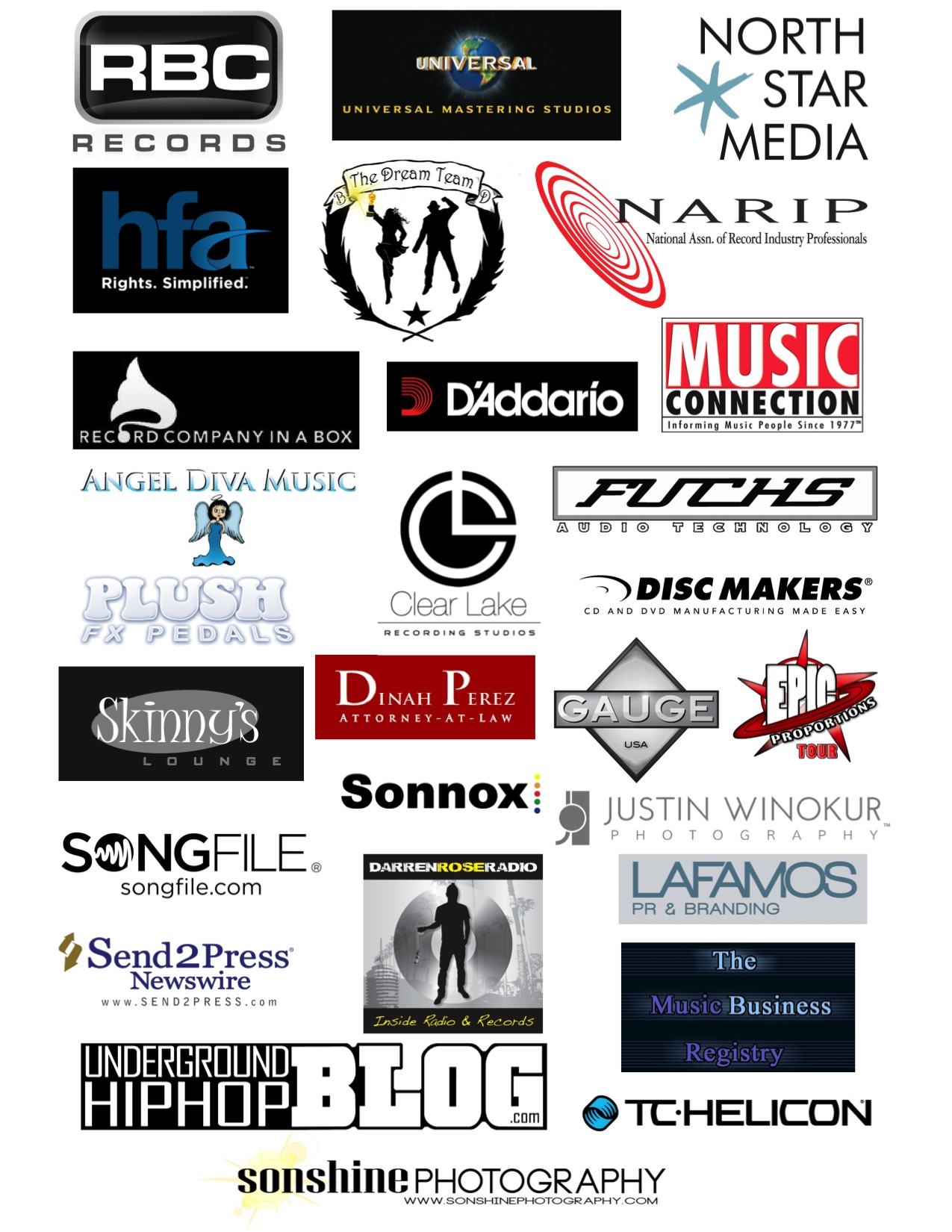 ---