We are delighted to add producer Fouché to our excellent line-up of LAMN Jam talent judges!
About Fouché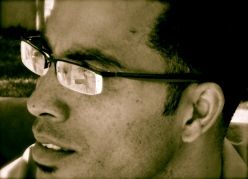 Born in New York City, Fouché moved to the Caribbean Island of Hispañola at age 4, in the country of Haiti. He grew up immersed in the Haitian culture, its rhythms and sounds. He returned to the US at age 16. He graduated from The College For Recording Arts in San Francisco in 1992. Among some of his instructors were such greats as Fred Catero (Janis Joplin, Carlos Santana, Herbie Hancock, Phoebe Snow, Chicago, Blood, Sweat & Tears, the Pointer Sisters), Leo De Gar Kulka (Frank Sinatra, Nat "King" Cole, Little Richard, Herb Alpert, Sam Cooke), James Allen (Backdraft, Terminator 2). Recently he's worked with the Grammy Award winning rock group Living Colour (Vernon Reid, Doug Wimbish, Will Calhoun, Cory Glover), the legendary Chuck D and Musiq Soulchild to name a few. Fouché also worked on several video games produced by the multi-national video game publisher Namco Bandai Games on titles such as Afro Samurai featuring Samuel L. Jackson and Kelly Hu, Active Life Extreme Challenge, and the world famous Pac Man.
Now settled in West Hollywood, CA, and while still involved in the video game industry, Fouché's passion lies in producing Hip-Hop, R & B, Pop, Electronic Dance Music, and Latin acts, assisting them in the production of their songs, music and promotional videos.
"My recording studio encompasses my core beliefs: Honesty, Fun, Passion and High Quality," says Fouché. "It provides a comfortable environment for artists to freely express their creativity with state of the art recording and mixing equipment."
Sources For More Info:
fouchemuzik.com
---